Baumit GranoporColor
Peinture D2 acrylique
Peinture à base de résine synthétique prête à l'emploi pour usage extérieur. Perméable à la vapeur d'eau et très hydrofuge.
Très hydrofuge

Facile à appliquer

Faible encrassement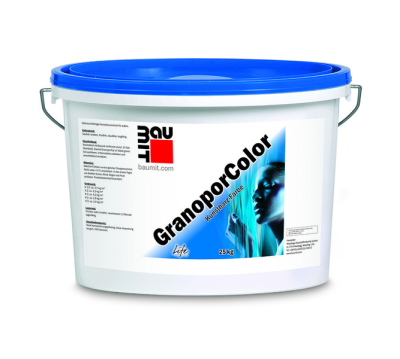 Bien homogénéiser le seau avant application avec un agitateur à vitesse lente. Appliquer une première passe diluée (max. 15%) sur toute la surface à l'aide d'un rouleau ou au pistolet. Après séchage d'au moins 12h, appliquer une seconde passe (dilution max. 5%)
Variantes du produit
Perméance à la vapeur d'eau
ca. 200 - 250
Perméance à la vapeur d'eau
ca. 200 - 250
---
Sélection de couleur
All color samples shown serve as a visual guide to the chosen product. Test samples applied on the façade for approval prior to full application is recommended. Slight differences between colors shown here, color swatches, color folders, natural samples and the materials provided are possible due to production processes and cannot be claimed against. Color and texture uniformity can only be assured within a production batch. Please note: The structure and nature of the substrate may affect the actual color appearance.
Code couleur
color_name
HEX: hex_code
RGB: rgb_code
Cherchez-vous une couleur spécifique?
---